We Put Her There The Contributors Le Cadeau du peuple francis au peuple americain
The Story of the Statue of Liberty
English and French Narrations
NTSC or PAL format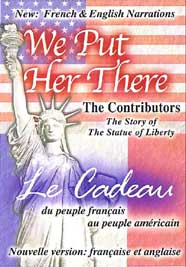 The Statue of Liberty was conceived by a group of French intellectuals in 1869. From Paris to New York her path took sixteen problem-filled years. From the start she had to beg for funding. Hundreds of thousands of ordinary citizens, even children, in France and the U.S. gave what they could.
The story of this colossal gift is told through dazzling 19th-century pictures and the actual words of her sculptor, August Bartholdi. (1834-1904)
She was the symbol of French participation in the American revolution, and has become symbolic of freedom worldwide.
Copies of the DVD NTSC Region Code 0 (no restrictions) can be ordered through the club for $35 postage paid to the USA. Each DVD has both English and French versions, no subtitles. Email for rates to other areas where NTSC is the correct playable format. Check the back of your DVD or Blu-Ray player for format. Send your request to

Contact

to order PAL format DVD